WATCHMANTM
Solution in Stroke Risk Reduction*
Proven Procedure
Learn about the efficacy results of WATCHMAN compared to warfarin in clinical trials of patients with non-valvular AF who are eligible or have a contraindication to anticoagulation therapy.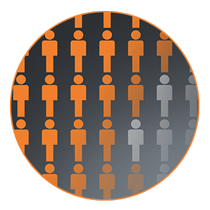 Proven Safety
Review safety data from clinical studies and real-life results from the EWOLUTION Registry, showing overall high implant success rates for WATCHMAN.


References
1. Reddy VY, Sievert H, Halperin J, et al; for the PROTECT AF Steering Committee and Investigators. Percutaneous left atrial appendage closure vs warfarin for atrial fibrillation: a randomized clinical trial. JAMA 2014;312(19):1988-1998.
2.(2014). Circulatory System Devices Panel: WATCHMAN® Left Atrial Appendage Closure Therapy Sponsor Presentation. 2014 FDA Circulatory System Devices Panel.
3. ASAP Registry, Reddy, et al. JACC 2013 Jun 25;61(25):2551-6.
4. PREVAIL, Holmes, DR et al. JACC 2014; Vol. 64, No. 1.
5. Boersma L. V.A. et al., Implant Success and Safety of Left Atrial Appendage Closure with the WATCHMANTM device: periprocedural outcomes from the EWOLUTION Registry. Eur Heart J. 2016;37(31):2465-74.
6. Reddy VY, 5-Year Outcomes After Left Atrial Appendage Closure From the PREVAIL and PROTECT AF Trials. J Am Coll Cardiol. 2017 Dec 19;70(24):2964-2975. 
CAUTION: The law restricts these devices to sale by our on the order of a physician. Indications, contraindications, warnings and instructions for use can be found in the product labeling supplied with each device.
Information for the use only in countries with applicable health authority product registrations. Information contained herein is for distribution outside the U.S., Japan and France.